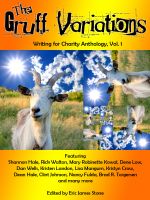 When Nebula Winner and Hugo Nominee Eric James Stone put out a call for stories based on The Three Billy Goats Gruff, my first thought was, "Billy Goats? What on earth can you do with billy goats, artistically speaking?"
The answer, as it turns out, is: "One stupendous heck of a lot."
The Gruff Variations
includes work by New York Times best-selling author Shannon Hale, award-winning children's picture book author Rick Walton, Hugo Award winner (and Nebula Award nominee) Mary Robinette Kowal, Edgar Award finalist Dene Low, Nebula Award nominee Brad R. Torgersen, the inestimable William Ledbetter, and a lovely woman named Emma Nelson who spent several months tromping pavement with me Rathenow, Germany, long before either of us had blogs.
My contribution to the anthology, called
A Starscape Slightly Askew
, revisits the fairy tale trope of the three siblings, two of whom are inevitably brats while the third might as well be wearing a halo. I've always felt that there must have been more happening in those family dynamics than meets the eye. In addition to being a rollicking story about interstellar travel and multidimensional manipulation,
A Starscape Slightly Askew
explores the history that made the older siblings so cranky in the first place, as well as the effects of that history on the youngest child.
The Gruff Variations
is a charity anthology. Neither the authors nor the editor received compensation for their work, and 100% of the proceeds will go toward buying books and school supplies for underprivileged children. If you're inclined to find out just how many different things you can do with billy goats, literarily speaking, I encourage you to pick up a copy.
Buy at Amazon
|
Buy at Smashwords
|
Buy at Barnes & Noble