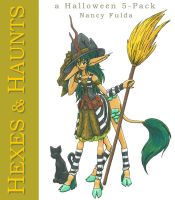 Rachel Hoyt at Paper Cuts has given a glowing review of Hexes and Haunts, calling it "a quick, one sitting read that I deeply enjoyed".
The audio version is also being featured on Audible's SpookyACX page, in honor of Halloween. (You have to click on the "More Featured Scary ACX Listens" link to find it, but it's there.)
My sales reporting hasn't updated since the SpookyACX feature, so I don't know what, if any, effect this will have on my sales numbers. But it makes me feel special.
cross-posted from
nancyfulda.com