I'm pleased to announce that my short story "Deadfall" will be published in the SHATTERED SHIELDS anthology, edited by Jennifer Brozek and Bryan Thomas Schmidt. The book will be released from Baen in November 2014.
"Deadfall" was a fun story to write. I'd been reading some of Brandon Sanderson's work the month previous, and was impressed at his skill with combat sequences. "Deadfall" does not attempt to duplicate Sanderson's style, but I definitely pushed myself to strengthen the impact of my own narrative technique. I paid a lot of attention to the action sequences in this story, and I'm very pleased with the result.
----------------------------------------
------
cross-posted from
nancyfulda.com
----------------------------------------
------
I've always had a soft spot for beautifully illustrated children's books. I adored Mercer Mayer's Professor Wormbog and the Search for the Zimparumpazoo. I fell in love with David Wiesner's Tuesday, and from the first moment I saw Dinotopia, I knew I would someday own a copy. The combination of words and pictures to tell a story more powerful than either could tell alone is, in my opinion, one of the greatest accomplishments of storytelling.
Enter Angela Call and Sandra Tayler, who joined forces a few years ago to create a picture book every bit as delightful as the ones I've treasured since childhood. Hold on to Your Horses tells the story of Amy, an impatient and innovative child whose great ideas get her into a lot of trouble. I loved Amy's story. I love the little illustrations with dancing horses and footprints running across the ceiling. I love the tender words and artful rendering of Amy's late-night cuddles with her mother, and the strength of the metaphor that permeates the final pages. Hold on to Your Horses is a fabulous book.
I am, admittedly, not unbiased in my assessment. Sandra is my sister, and it's utterly unsurprising that the story she told and the artist she selected are a perfect match for my sensibilities. Fortunately, Jim Hines and Booking Mama have no such predispositions. Neither do my children, who insisted on at least five or six repetitions before I had a chance to mention it was written by their aunt. I'm not sure they've really even processed the 'aunt' part. But they sure do like the book.
Hold on to Your Horses can be bought at the Schlock Mercenary store or at Amazon.com, and an author-approved free copy is available in PDF format. (Hint: it makes a great holiday gift.)
And, because Sandra is my sister, I'm going to include a MAJOR SHOUT-OUT to the STRENGTH OF WILD HORSES KICKSTARTER. Amy's story isn't finished. In the next book, she learns what idea horses are good for, and how to steer them to even more amazing places.
----------------------------------------
------
cross-posted from
nancyfulda.com
----------------------------------------
------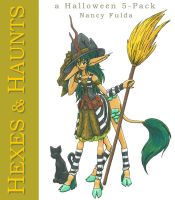 Ok, so anyone who follows my various social media outlets already knows this. Hexes and Tooth Decay is free to read at Bear Mountain Books, in honor of Halloween.
Also — and this information HASN'T gone out to the social media crowd — the Hexes and Haunts anthology is free at smashwords for the next three days. If you've never used smashwords before, they have books in pdf, text, epub and mobi formats, plus a couple of others I can't remember the names of. Oh, and if you'd rather pay for the convenience of direct delivery to your e-reader, here are the links for Amazon and Barnes & Noble.
Happy Halloween, everybody!
----------------------------------------
------
cross-posted from
nancyfulda.com
----------------------------------------
------
It's official. I am escaping from Hermitdom!
I'll be at Legendary Confusion in Detroit from Jan. 17 – 19, 2014 and at Life, the Universe, and Everything in Provo from Feb. 13 – 15, 2014. Panel assignments and further schedules to be forthcoming. If someone offers to teach me how to play Magic, the Gathering, I might even jump in as the worst-playing celebrity in LTUE's Charity Draft Tournament.
I am thrilled beyond speech to see everyone in person again. Drop me a line if you're going to be at either of these events, and we'll figure out a time and place to meet up.
----------------------------------------
------
cross-posted from
nancyfulda.com
----------------------------------------
------

A Starscape Slightly Askew, originally published in the Writing for Charity anthology, is now available in kindle format. This was originally intended as a standalone story, but I found the narrative style so delightful and the relationship between the sisters so intriguing that I've decided to come back to it. I'm working on a second story from Kittyhawk's point of view right now, with stories from the perspectives of Raven and Sparrow to follow.
Also: Another Dark Expanse story! Castles in the Sky is now live on the game's web site, integrated into the info packet on Galactic History. A rollicking space opera featuring a distraught sixteen-year-old who has been evicted from her alien foster family, the story is freely available to anyone with a web browser. Deception, betrayal and ray gun battles abound.
----------------------------------------
------
cross-posted from
nancyfulda.com
----------------------------------------
------
My kids asked me what I dreamed about, so I summarized my latest REM plotline involving a magically gifted teenager who joined my expensive skyrise household in order to escape her troubled past. (Yes, I really have dreams like this.)

My four-year-old daughter said, with big serious eyes: "But Mommy, you always do that. Whenever somebody's hurt, you always come and make her feel better."

My heart melted on the spot. For a woman who sometimes worries that she spends too much time at the keyboard, that was one doozy of a pick-me-up.
Writers often have a love/hate relationship with their muses. We love the burst of inspiration that results in a truly awesome story idea. We adore those moments when the words flow onto the page as smoothly as water pouring from a fountain into a frothy pool, with as little apparent effort. We love the sensation that the story is already present, somehow, in some other reality. That we are not so much creating it as coaxing it out into the open where others can see its beautiful structure.
Or at least, that's the way I feel about it, and comments from others lead me to suspect they feel something similar. Problematically, these moments with the muse tend to be fickle. The muse comes and goes. We feel alternately excited, depressed, anxious and hopeless about our writing. The words often clog instead of flow.
Writers tend to cluster into two groups regarding their relationship with the muse. The first group accepts that the muse is not always present, and holds that one ought not to let the absence of inspiration hold one back from the act of creation. This is usually the group that advocates writing on a strict schedule, without fail and without regard to one's current level of enthusiasm. The second group likewise accepts that the muse is not always present, but holds that is words extracted in the absence of inspiration are lifeless, flat, and ultimately doomed to be revised into oblivion. This is the group that writes in lulls and bursts, creating nothing for weeks and then spending an entire frantic weekend transmuting ideas into stories.
Over the years, I have come to conclude that I agree with both groups. Specifically, I simultaneously believe that (a) no work created in the absence of that driving spark of enthusiasm can ever reach its full potential, and (b) both the quantity and quality of work produced is better if one requires oneself to write while uninspired.
I call this apparent contradiction the Muse Paradox. The resolution lies in a rarely acknowledged causality. You see, writers are not minions of the muse. We are partners with the muse. The relationship goes both ways, which means that it is possible to drag the muse to the keyboard in the same way that the muse sometimes drags us there.
It is a fact that I sometimes force myself to sit at the keyboard and begin typing. It is also a fact that I rarely finish a writing session without having kindled a spark of enthusiasm which makes me loathe to leave when other duties call. Maybe that's just me. Maybe it doesn't work this way for anybody else. But I strongly suspect that no matter who you are, no matter what kind of fiction you write or what your modus operandi is, there is some means by which you are able to summon your muse.
----------------------------------------
------
cross-posted from
nancyfulda.com
----------------------------------------
------
Three years ago I blogged about
The Black Abyss
. It's the unacknowledged chasm that lurks beneath every person's existence, the horrifying realization that the relative stability of the present is an illusion. That the people we love will never be truly safe. That malice, accident, acts of God or sheer blatant stupidity could strip away everything precious at any moment, and that we are too small and too powerless to do anything about it.
I glimpsed that chasm three years ago, when I was diagnosed with aggressive cancer. The blackness goes down and down, all the way down. It is a very scary place.
Today I read
Myke Cole's
post about his own, vastly more intense, encounter with that blackness. I am moved. And I am oddly comforted. Not that I'd wish for anyone to experience what he has experienced, but it is good to know that others have seen the black abyss, and found their own ways to move forward.
I am moving forward, as well. Cancer remains in remission, finances are stable, and life has settled into one of those pleasant and fulfilling lulls between storms.
There will be more storms. It is an utter certainty. But right now, I am not afraid of them.
Last week I experienced a remarkable first. My morning mail arrived with not one, but TWO sets of contributor copies, from two separate publishers. To say that I was in happy author squee heaven would be somewhat an understatement.
I'm delighted to report that BEYOND THE SUN and TWELVE TOMORROWS are now both available for purchase. The former includes my story A Soaring Pillar of Brightness which explores the interplay between alien religion and conscientious human meddling, much to the delight of the Functional Nerds. The latter includes The Cyborg and the Cemetery, which is currently my highest-paid piece of fiction ever, and which took my chronic obsession with artificial intelligence into new and unexpected places.
Happy reading, everybody!
----------------------------------------
------
cross-posted from
nancyfulda.com
----------------------------------------
------
I have concluded that colliding world views are kind of like going to the beach.
Really.
See, we all need sunlight. Vitamin D and all that. But we also can't handle too much of that beautiful, healthy UV light, because our skin will get red and then start to peel and we'll feel achy and unhealthy for days on end. So we've all learned to moderate our sunlight intake. We sit in the shade, lie in the sun, or use sunscreen as our current situation demands.
Venturing into the realms of someone else's world view is like that. There's an intellectual pallor that accompanies those who never, ever think beyond the box of their own perceptions. That's not healthy. We all need to be pushed and challenged and re-evaluate our foundational assumptions from time to time. But we're all also susceptible to ideological sunburn. And so we somewhat instinctively moderate our exposure. In past decades, that has meant selecting different books to read or choosing whether to pursue an idea or change the topic in real-world conversations.
Enter the internet. MEGA-HIGH-VOLTAGE UV EXPOSURE. All those filters we've been using subconsciously for years don't really apply here. We have to build new ones. And so we find ourselves muting friends on facebook even though we still really like them, or retreating from the internet for days on end. And if you're like me, you sometimes feel guilty about that. Because somehow I think I ought to be tougher, that I shouldn't shy away from people who see things differently than I do. That I shouldn't shut myself off from things that jar and jangle and feel like a slap of cold water in the face – because if those things hurt me so much, then it probably means there's an important lesson for me to learn there. Sunlight is healthy. Why would I want to lock myself away in the dark?
Today I realized I should probably stop feeling guilty. My soul craves exposure to differing ideologies — it's one of the reasons I love science fiction so much. But my soul also needs that exposure to stay within a range of healthy intensities. I wouldn't expect my body to handle a full afternoon spent in unfiltered Nevada sunlight, or to swallow down an entire plate full of table salt. So I probably shouldn't expect myself to interact for months on end with an unmoderated internet without taking a bit of damage. I can choose to accept that damage, or choose to retreat from it, but I shouldn't require myself to be superwoman.
I feel like this is the part of the post where I'm supposed to say something very profound and forward-thinking. But I don't have any of that today. I've just got a warm little feeling that comes from finally understanding why something hurts, and what I can do about it.
----------------------------------------
------
cross-posted from
nancyfulda.com
----------------------------------------
------